We wanted to go to Kauai but we couldn't find a reasonable rental car reservation which led us to research the other islands and find Moloka'i. It is a smaller island with only 7,400 people and is less touristy than the other islands. We loved our time on Moloka'i which allowed us to slow down but expect a different experience than the other islands. The island is quiet and relaxing both during the day and at night. Check out our Moloka'i Hawaii travel guide below!
How we traveled there
Since we were coming from the Big Island we took Mokulele Airways which is a commuter airline in Hawaii traveling between islands. It was a small 10-ish seater plane. We left out of Kona International Airport (KOA), connected at the Kahului Airport (OGG) on Maui then made it to the Molokai Airport (MKK). Mokulele Airways is in the Kona Airport but it is far to the left of the airport in an area for commuter planes. We ended up walking at least 10 minutes from the main entrance to where the Mokulele desk was. I recommend getting dropped off as far to the left as you can to avoid lugging your bags that far.
We were glad we took this small plane to Moloka'i. Since it flys low to the ground we got to see most of what a helicopter tour would see. A lot of the Moloka'i cliffs are not viewable by driving.
We rented a car from Alamo which was walking distance from the airport. Since it's a small island there are only a few rental car options. I would reserve ahead of time. We rented a sedan but I wish we would have rented a 4WD vehicle which was required for some of the hikes we wanted to do. We attempted to drive to a trail but the road was very uneven and rocky with miles to go so we turned around.
Where we stayed
We stayed at a 2 bedroom Airbnb on the west side of the island. It was walkable to the beach and had the most stunning sunsets. There were a lot of other condos and one convenience store around the area but no downtown or restaurants. We had to drive 20-30 minutes back into town for anything other than the beach. We enjoyed the seclusion for a few days but if you want to be more social look into staying around the Kaunakakai area.
What activities we experienced
Our first day we hiked the Kaulaupapa Lookout which overlooks the once-isolated colony (from 1866 to 1969) for Native Hawaiians suffering from Hansen's disease, also known as leprosy. You can overlook the former leprosy colony where people still live and a beautiful view of the ocean. On the other side of the trail is a hike to a phallic rock that is also quick to reach. Together it was 0.7 miles and 157 feet of elevation gain. The parking lot is right next to the trail.
Afterward, we headed to Pāpōhaku Beach which was a quick drive from our Airbnb. It is a long white sand beach where we were the only people on the beach for most of the afternoon. There is a large parking lot right next to the beach with a small park area. Experiencing this beautiful and relaxing beach is my number one recommendation for Moloka'i.
The next day we visited the Moloka'i Plumeria Farm where we met the owner and walked the farm picking flowers from the trees. The owner showed us how to make leis from the flowers that we picked. The leis ended up lasting two days. Jessica shipped lei-making kits home to her family as a quarantine activity which they loved. Visit their site to book a tour.
After making leis we headed to the east side of the island to check out the beaches. The last few miles are narrow roads with single-lane sections and tight curves. We decided to stop at George Murphy Beach to avoid those roads. You can pull off the road to park right above the beach. This beach was much smaller than Pāpōhaku Beach but was still quiet with only a few others enjoying the sun. You can enjoy views of the other islands with Maui right in front of you and Lanai to the right. There is not much beach front so as the day went on the water level kept rising causing us to move farther up until there was no beach left. I would recommend going in the morning to have more beachfront.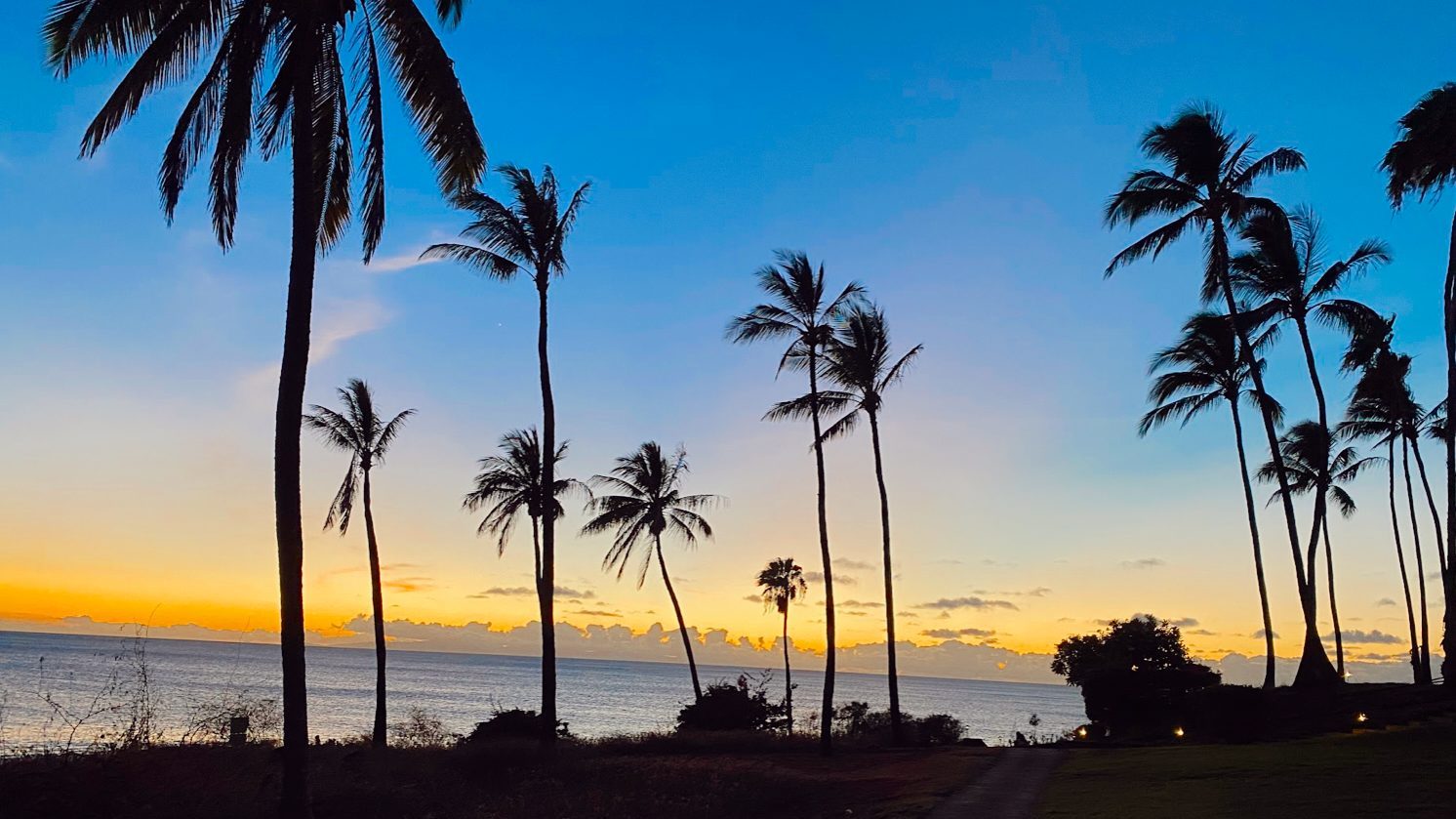 Where we ate
Where we drank
Since we were a 20-30 minute drive from our Airbnb we didn't experience the bar scene (if there even was one). We enjoyed wine on the porch while watching the sunset.
What we recommend knowing/preparing
What we didn't do but looked into
What we packed
We hope you enjoyed our Moloka'i Hawaii travel guide. Leave a comment below or contact us for any questions. If you are still considering islands check out our post on the Big Island.
~Elyse