Being able to cross two bucket list items off in one country sparked my interest in Guatemala. Seeing lava explode out of an active volcano has been on the list for years along with seeing Mayan ruins. Check out our Guatemala travel guide below!
How we traveled there
I flew from Denver to Dallas to Guatemala then Guatemala to Atlanta to Denver on the way home. You fly in and out of La Aurora International Airport (GUA). Since Antigua is an hour away I recommend booking a shuttle service beforehand. I used Guatego shuttle service 3 times while in Guatemala. It is a van shuttle that picked us up with a few others right outside the airport.
I opted not to rent a car since the cities were very walkable. I was glad I didn't have to deal with a car given streets are narrow and parking is difficult.
If you want to visit the Tikal Mayan ruins then I recommend a short one-hour flight to Flores which takes off from La Aurora (GUA) and lands at the Mundo Maya Airport (FLS). The other option is a 9 hour drive to Flores.
Where we stayed
In Antigua I stayed at Hotel Eterna Primavera Antigua. The courtyard was beautiful with an abundance of plants and flowers. Is has a rooftop to view the city. The room had two double beds (rarely found queen beds in Guatemala) and a bathroom. The room had limited light (natural and electric) but we noticed that was common in Guatemala. I booked through Expedia since they don't have their own website.
In Lake Atitlán I decided to stay in Panajachel since it was the most accessible city on the lake to get to and I was arriving later in the night. I stayed at Porta Hotel del Lago. The hotel was right in the town and very close to the water where you can grab a water taxi to explore the other cities on the lake. The hotel had a pool and beautiful views of the lake and volcanoes.
In Flores I stayed at Hotel Isla De Flores which quickly became my favorite accommodation in Guatemala. The hotel was centrally located on the island of Flores making everything walkable, had a small pool and a rooftop restaurant with a DJ and delicious cocktails.
What activities we experienced
Antigua
I visited Hobbitenango Park which you need to take an Uber or Taxi to get to since it's 20 minutes away from Antigua. It is an instagrammable spot that offers stunning views of the volcanoes. They have rooms to rent and restaurants, but I didn't experience either. When you get there you have to wait to take one of their cars/wagons up to the park. It is a rocky ride. We went early in the morning to beat the crowds. I am glad we checked it out on our first day while we were getting acclimated to the altitude before our volcano hike the next day.
I did an overnight hike on Acatenango volcano to watch volcano Fuego erupt. I booked through the tour group Wicho & Charlies. This tour group was phenomenal. They provided all meals, had gear to borrow and rent. They had cabins instead of tents on the volcano to keep you warm at night and their campsite had amazing views of volcano Fuego. Due to the steepness, altitude and length this hike was strenuous even for myself who hikes frequently in Denver (yet very worth it). Through the company, you can hire a porter who will carry your backpack up the volcano for you for Q150-Q250 ($20-$30 USD) as long as it's less than 25lbs. I hired someone to carry mine up and down the volcano and was very worth it for me due to the steepness and weight of my bag.
Make sure you are prepared with enough water (we added Liquid IVs which helped to replenish our electrolytes), sturdy hiking boots, hiking poles, sunscreen, protein and warm clothes for nighttime. It is very cold at night. I wore two coats (light puffy coat and a rain coat), two pairs of pants, thick socks, a winter hat and gloves to stay warm when I wasn't in the cabin. Watching a volcano erupt 20+ times throughout the night was an experience I will cherish forever.
After the hike we had an afternoon free before we took the Guatego shuttle to Lake Atitlán. I booked a day pass to the Spa Yaxtun in the Hotel Casa Santo Domingo. After two days of hiking it was relaxing to utilize their pool, sauna, steam room and restaurant. This also allowed use of their locker room and showers before the 2.5 hour drive to Lake Atitlán.
Close to the center plaza is Armonia-Harmony which has beautiful embroidery on leather items; shoes, bags, belts, etc. I love how unique my boots are that I bought from this store. Each pair they make has a different embroidery on the sides.
Lake Atitlán
Our first full day I took a boat taxi to San Juan & San Pedro. If you head down to the beach there are two places the boat taxis are located. The boat taxis is a small boat that holds 10-15 people. In San Juan I walked around the streets which are beautifully decorated. I walked up to the Kaqasiiwaan outlook which was very colorful and had a beautiful view of the town.
Afterwards, I took a tuktuk from San Juan to San Pedro where I had lunch and some cocktails before boating back to Panajachel. The tuktuks are only licensed for their town but they can drop you right on the edge of the next town to avoid a long walk. The boat taxi stops running around 5pm and the last boat is very full taking twice the amount of time to get back than it did to get there. Plan accordingly! Boat taxi info here.

Flores
My biggest regret was not having enough time to explore Flores. With only one full day, I spent most of it at the Tikal National Park to cross off the 2nd bucket list item; Mayan ruins. I booked a private tour through Viator because group tours were 8+ hour commitments and I wanted to be on my own time. I would use this tour guide again. He picked us up from our hotel at the time I chose, drove us to the park which took 1.5 hours, then waited until we were finished to drive us home. Tikal is a UNESCO World Heritage site.
To enter the park you must have your passport and the entrance fee in their local currency which is quetzals (no ATMs). The fee is Q150 which is $20 USD. At the entrance into the park there are many guards with large weapons protecting the national park. They ask a few questions before letting you through. It takes another 20-30 minutes of driving to get to the area with the ruins. I spent 3 hours exploring the ruins but you could easily spend the full day. Bring plenty of water, snacks, bug spray and sunscreen.
Where we ate
Antigua
I had dinner at La Casa Del Ron. The food was tasty but the cocktails stole the show.
I also had a steak dinner at Casa Escobar. This restaurant is located across from an old college for the society of Jesus (Antiguo Colegio de la Compañía de Jesús) which is beautifully lit up at night.

Lake Atitlán
In Panajachel I loved Amaranto Panajachel. This place doubles as a restaurant and a coworking space including a pool for an in-between meeting dip. All the outside picnic tables had outlets to charge your devices.
In San Pedro I had beers at Sababa, but wish I would have eaten there too. The food looked amazing. It had beautiful views of the lake and many people were using it as a coworking space. I ate at San Pedro Laguna Latina Kitchen right by the boat taxi area. The service was slow but the piña coladas and pad thai hit the spot!
Flores
Don't leave Flores without experiencing Maracuyá. You are surrounded by plants/greenery and right on the water. There is even a table on the dock you can reserve for dinner. Mango Bar on the roof of Hotel Isla De Flores is a great spot for delicious food, cocktails, views and music.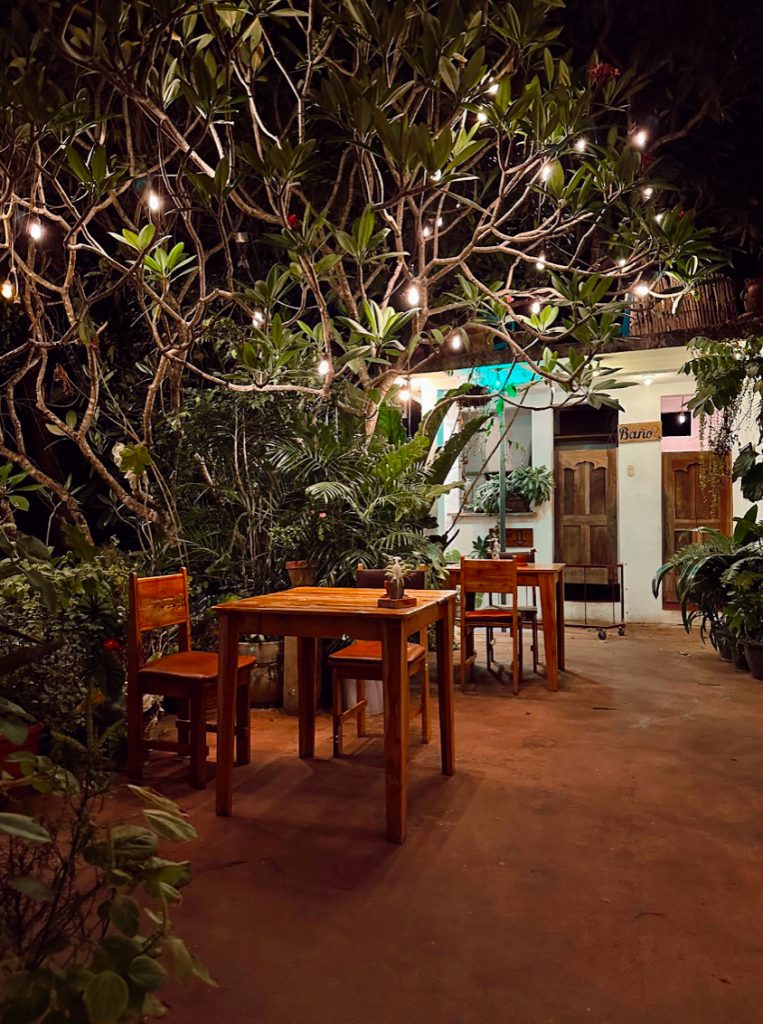 Where we drank
Antigua
Antigua Brewing Company – they have rooftop seating with beautiful views of the volcanoes
Ulew – if you go through the red phone booth in Antigua Brewing Co you will find this speakeasy. Best cocktails we found which are made unique to you based on the liquor and vibe you provide them.
Lake Atitlán
Simoneta Mixology Cantina – This is another bar where you provide your liquor and vibe and the bartender creates a unique cocktail for you. It is tucked away from the main street which took us a few laps to find but worth it. If you are facing Hana Restaurant it will be on the right in a courtyard area. It is a bar with a bunch of sharpie on the walls.
Flores
Sky Bar is the spot to be to watch the sunset with a refreshing cocktail in hand
What we recommend knowing/preparing
Many speak English and many do not. I used the Spanish language on Google Translate and was able to have basic communication. Download the offline version before you leave in case you don't have WIFI or service.
Many places only took cash in their local currency quetzals, I recommend exchanging $500 before you leave for your trip
You don't need a voltage converter (if you live in the USA) and hair tools worked
There are Ubers and taxis available in Antigua. I didn't need them for the other cities.
Driving is very stop and go. If you get car sick, bring meds
I heard about safety issues in Guatemala but I didn't experience any. I felt safe walking around with my male friend but was cautious not to be out too late in low-traffic areas.
I had some ice in drinks but drank bottled water the entire time
I had a cold towards the end of the trip. The pharmacy was very helpful in prescribing me some over the counter meds. I was able to walk right in, describe my symptoms, and they knew what I needed.
Although Lake Atitlán was beautiful, Flores also has a massive lake. Instead of cramming three cities in one trip I would have just done Antigua and Flores to limit the amount of travel time.
Check out our travel tips page for general recommendations
What we didn't do but looked into
Volcán Pacaya – another volcano hike near Antigua
Casa Del Mundo – hotel on Lake Atitlán that is well known
What we packed
Warm weather clothes – it was partly cloudy most days with a slight breeze at night
Flat shoes given streets are very uneven
Check out our recommendations for travel clothing and essentials
We hope you enjoyed our Guatemala travel guide. Leave a comment below or contact us for any questions. If you love adventurous trips, then you should also check out our post on Iceland.
~Elyse