My parents went to Banff years ago and raved about the magical feeling you experience while you are there. We decided to make it into a girl's trip with our friends Beth, Beth, and Mckenzie. We visited in August and had weather in the 60-70s with two rainy days. Check out our Banff travel guide below!
How we traveled there
We flew from Denver to Calgary International Airport (YYC) and then drove 1.5 hours to Banff with a rental car. A car is not needed in Banff as long as you are willing to take the shuttle to downtown Banff and also for hiking.
Where we stayed
We stayed in Banff at this VRBO. It had 3 queen-sized beds with one in a bedroom and two in the lofted space. This place was a tight fit for 5 people but we made it work. It had an oven and stove top where we cooked some meals and a small balcony. This place was up the road from the downtown area which took a 15-20 minute walk to get to. We also took the free bus a few times and found the schedule was accurate.
What activities we experienced
We visited Lake Louise and Lake Morraine which were both stunning. Rock dust from glaciers rubbing against bedrock creates the beautiful turquoise color of the water. We drove 40 minutes to the Lake Louise Ski Resort to park then took the shuttle to Lake Louise which was $7/pp. We pre-bought our tickets for a specific hour shuttle slot but you can also purchase them there. The shuttle took 10-15 minutes to get to Lake Louise. If you don't have a Canadian national park pass then you can purchase a day pass at a kiosk before walking up to Lake Louise.
We hiked Little Beehive which had a beautiful birds eye view of Lake Louise. About 1/3 of the way down we stopped at Lake Agnes Tea House. We didn't stay since the line was too long but they are known for chocolate cake and tea. Get there early if you want to taste it. Our friend was experiencing altitude sickness since the elevation was an adjustment. We recommend carrying oxygen boost canisters on hikes and not pushing yourself if your symptoms get worse.
It was pouring rain on our hike down from the tea house. Don't forget your waterproof hiking shoes and raincoat. As a hiker, I would rate these hikes as moderate at 5.7 miles with 1,955 feet of elevation gain.
We took the same shuttle service to Lake Moraine which was 20-25 minutes from Lake Louise. While you are there climb up the rock pile to get an elevated view of Lake Moraine. Due to the rain, we quickly took in the views and then hopped on the shuttle back to the ski resort to grab our car. I wish we had more time to spend at Lake Moraine to soak in its beauty. Because it was raining so hard, the shuttle line was at least 30 minutes long. If you need a pick me up there is a small coffee and snack station close to the Lake Moraine shuttle.
The Banff Fairmont is a famous castle-like hotel with beautiful views of the mountains. We booked a day spa pass through Resort Pass to experience the spa and hotel without staying there overnight. It was $76pp for 3 hours with access to whirlpools, a mineral treatment pool, an outdoor whirlpool, a sauna, and steam rooms. We enjoyed the relaxation and getting to experience the Banff Fairmont.
On our last day, we visited Lake Minnewanka. We planned to take a boat tour of the lake but due to thunder and rain, it was canceled. It is the 2nd longest lake in the mountain parks of the Canadian Rockies which is why a boat tour is a great way to see more of it. After leaving Lake Minnewanka we quickly stopped at Two Jack Lake to check out the views.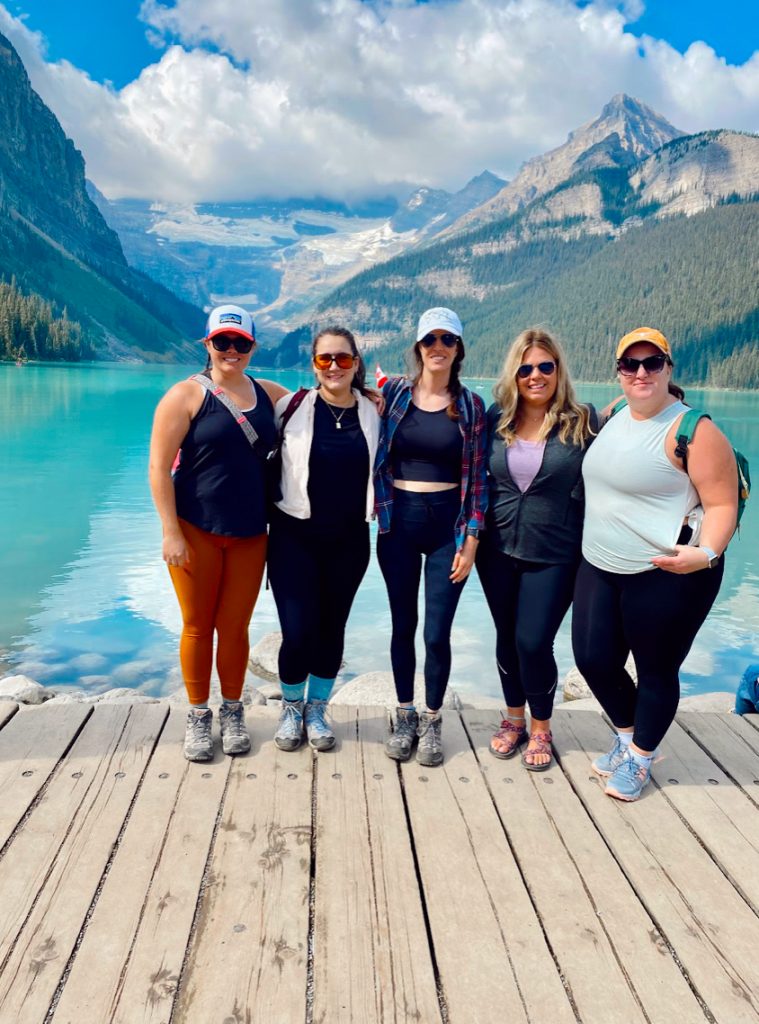 Where we ate
Before arriving in Banff we stopped at the Safeway grocery store in Canmore to stock up on food and alcohol knowing Banff is expensive.
We were impressed with the food in Banff. We recommend getting a reservation for Farm + Fire.
Where we drank
What we recommend knowing/preparing
What we didn't do but looked into
What we packed
We hope you enjoyed our Banff travel guide. Leave a comment below or contact us for any questions. If you love adventurous trips, then you should also check out our post on Guatemala.
-Elyse