My friend was interested in Alaska and once I started researching, I was counting down the days until we were overlooking Denali (the highest mountain peak in North America). At the time, I remember thinking that Alaska felt far away yet still convenient since our phones and credit cards still worked. Now that I've traveled a lot more, I have learned that both work in most countries! Check out our Alaska travel guide below!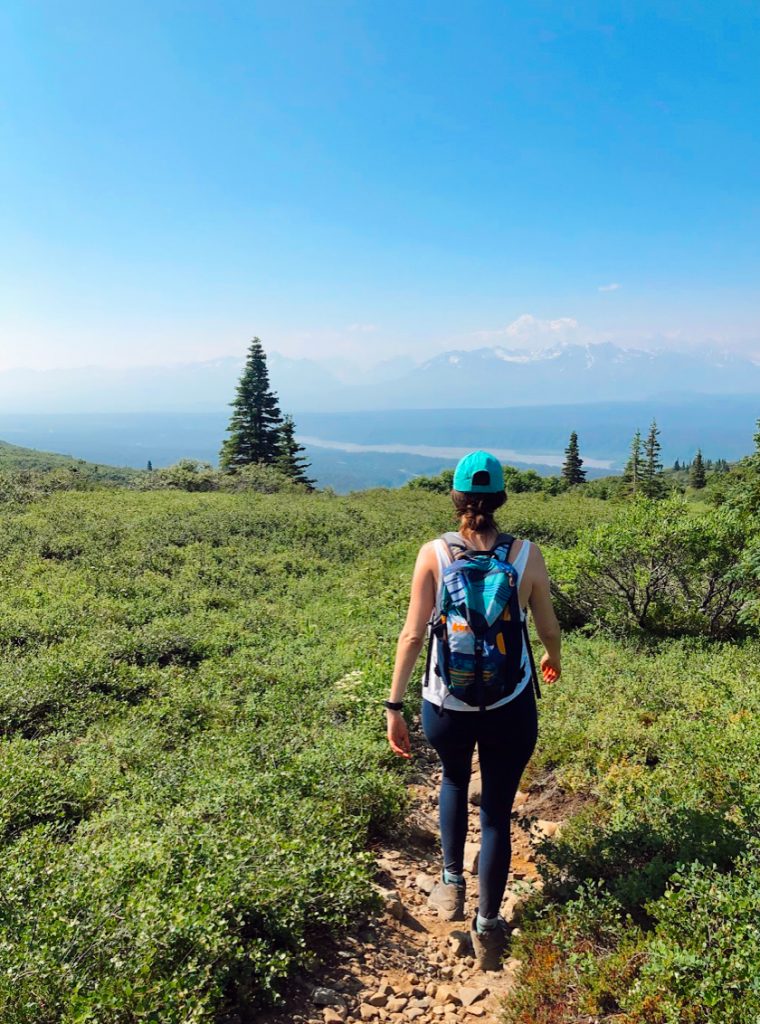 How we traveled there
We flew direct from Chicago (where I was living at the time) on United to Ted Stevens Anchorage International Airport (ANC). It was a 6-hour flight although we had to sit on the tarmac for 2 hours before we could take off. I slept most of the way to Alaska which is a rarity for me.
We rented a Zipcar for the duration of our trip since we were staying in two cities and wanted to drive to a few hikes along the way. I would recommend an SUV since some of the roads are dirt roads, bumpy, and steep. Zipcar was cheaper due to already having a membership which is why we opted for this service instead of an airport rental.
Where we stayed
Right from the airport we drove a little over 2 hours to Talkeetna where we stayed in the coolest hobbit house overlooking Fish Lake. It is just one room with a bed, a small fridge and a microwave (no other kitchen appliances). The bathroom is behind the cabin. Our brains were completely awake when we were outside since it didn't get dark ever but as soon as we used the blackout curtains we passed out. Know that it is secluded as you are one of a few cabins around the lake.
In Anchorage, we stayed at The Anchorage Grand Hotel. It was a standard hotel that we barely spent time in. It was close to the train station so we did see the train pull in and you also heard the train here and there.
What activities we experienced
Our first full day we drove 45 mins north to hike Denali State Park. On the way, there are multiple overlooks of the Denali mountain peak and Denali National Park. If you see it, you are lucky! It is only visible 30-40% of the time in the summer due to changing weather. The reason we didn't hike in Denali National Park was that the park entrance was a two-hour drive then another hour drive on a bus into the hiking areas. We were glad we hiked Denali State Park because we had a stunning view of Denali National Park while hiking.
We hiked Little Coal Creek Trail which was 1,900 feet of elevation gain and 6.2 miles. I was not an experienced hiker back then and it was really hard. Luckily the scenery was stunning and the top felt like we were in the movie, The Sound of Music, with the beautiful mountains. Note there is a small fee to enter the state park.
On the second day, we took a floatplane that was run by the Airbnb we were staying at. They flew us through the mountain peaks at Denali National Park where we could see base camp and glaciers. It was too hot that day but there are days when you see wildlife as you fly towards the mountains. This was a highlight of the trip and a once-in-a-lifetime opportunity to be so close to the highest mountain peak in North America. It is a small 6-seater plane which was nerve-wracking but very worth it for the views and experience.

On our drive back to Anchorage we hiked Hatcher Pass. Even if you are not up for a hike, the pass is beautiful to drive through. We just parked our car at the parking lot for Fishhook Trailhead and hiked about 2/3s of the way up to take in the views. People were paragliding here too.
In Anchorage, we walked around Kincaid Park and saw over 5 moose that live in the park. Up to this point we hadn't seen any moose or bears given that it was abnormally hot in Alaska that year so we were excited to discover this park. It is a massive park that has ocean access. If you see a moose, give them their space or they will get aggressive.

We used Salmon Berry Tours to visit the Matanuska Glacier. It was about an hour away from Anchorage and they provided all the gear we needed plus lunch. We were able to walk on various parts of the glacier which was a first for me. The tour company was great, however being more adventurous than some of our tour mates, we felt held back from exploring more of the glacier. Next time, we would have driven ourselves. The parking lot is right next to the glacier. I recommend at least crampons for your boots and hiking poles with a helmet as optional. We saw many people with none of these items and although they could still experience the glacier they couldn't go as far into it.
Where we ate
In Talkeetna, we drove into the small town and ate at local restaurants there. It is only a few streets long so you can't miss it. There are also a lot of cute shops to walk in and out of.
On the drive to Anchorage, we stopped at a Thai place off the road that turned out to be one of our favorite meals. There were many Thai places around Alaska due to Thailand's "Thai Kitchen To The World Initiative" to increase Thai exports. I highly recommend tasting at least one while you are in Alaska.
In Anchorage, we ate and drank at 49th State Brewery. It was a hot spot so either get reservations or know there will be a wait. You can sit outside overlooking the water and sunset.
What we recommend knowing/preparing
Only 4 nights was not enough time to explore. I was so bummed to leave feeling like we had so much more to see within driving distance to Anchorage including Chugach State Park and Seward. We should have done a whole week in Alaska.
We went in July when it was 24 hours of daylight. We didn't mind this because we were able to see a lot in the four days we were there since we could hike at night with multiple people around.
In the winter it's mostly dark, allowing you a better chance to see the northern lights but limiting the hours you can explore.
To explore more of Alaska, I recommend renting a car
Check out our travel tips page for general recommendations
What we didn't do but looked into
Chugach State Park – it is 20 minutes from downtown Anchorage
Helicopter tour with glacier landing
Seward – a port city we would have liked to spend time in
What we packed
We packed mostly active outfits since we were exploring. Check the weather before because we packed for colder weather than it was leading to overheating on hikes.
I would recommend hiking boots with ankle support given the loose rock on many of the hikes we did
If you are touring a glacier bring gear for cold weather (jacket, gloves, hat, and thick socks)
Check out our recommendations for travel clothing and essentials

We hope you enjoyed our Alaska travel guide. Leave a comment below or contact us for any questions. If you love adventurous trips, then you should also check out our post on Iceland.
~Elyse